Afternoon,
Would it be possible to develop customizable fields within the directory entities personal details?
To expand, I would like to add contact numbers on an entities personal details which is visible on the anonymous directory, but isn't visible on the contact centres directories as a transferrable contact.
So if you look at the attachment, a field (or option for multiple fields) where you can customize the title of the personal information, such as "Contact", "Building", "Room Number" and then the blank box which those details could be added to.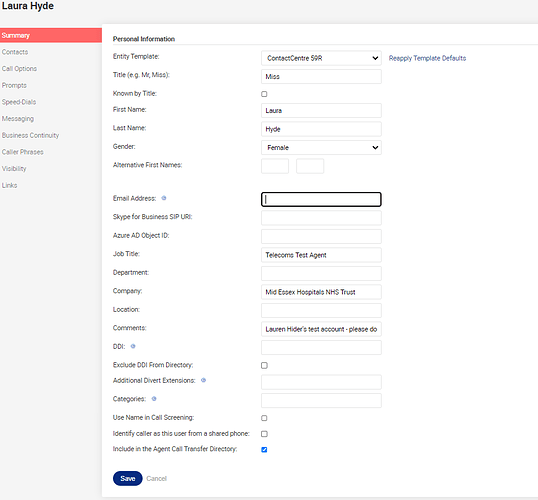 On the Anonymous directory, this would then appear with maybe a customizable symbol OR a non specific symbol (like a full circle) with that detail.
The workaround at present is to type the details that need to be displayed in one of the optional fields already available, but aesthetically (and for us with minor OCD), this isn't ideal, as it'll read "Company" - "01245 36 2000" for example, which makes little sense (also makes it look like us lowly admins don't know how to complete the fields correctly).
Of note - the comments field does not appear on the anonymous directory as this is a communication tool between agents (mostly switchboard) and the administrators.
Hoping to hear back soon

Kind regards,
Lauren Hider