Liberty Converse - Reporting Improvements
Happy New Year everyone from the Netcall Product and Dev team! We have some exciting news about the next release of Converse V5 and Contact Centre reporting.

Customers have highlighted to us a few features they would like to see in the next version of our Converse Contact Centre. This has been both at direct meetings and via the Community Forum, and we have been taking note. So, the next version, V5.1, is due very soon will include the following enhancements:

Share reports with other users – This means that, once you have built a Report template with all your required filters and columns, you will be able to share it with any other user in Converse who also uses reporting.

Scheduled Delivery of reports - The feature (which we hinted was coming on the Forum) has been on customers' wish-list for some time, and now it's here. This new feature means Converse can now automatically output reports based on a schedule you set up when you create a report template. The Schedule reports will be automatically emailed out to nominated recipients either daily, weekly or monthly as a CSV attachment.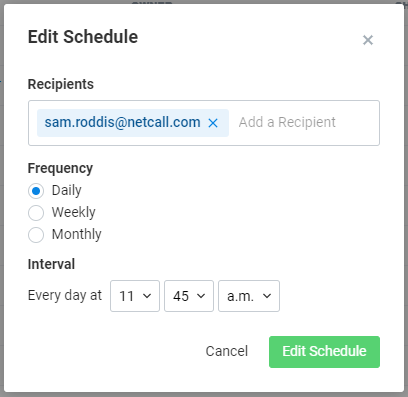 Initially, we are supporting a CSV output, but we are also considering extending this even further to support PDF, Excel and/or HTML. What do you think? Would that that be a key requirement? Let us know.

API Access – Version 5.1 also provides a new Report Data REST API. This means you will be able to access all your custom report data and saved reports from 3rd party systems. Even better, it's possible to configure Excel and PowerBI Desktop to access this reporting data directly. We think this will make it far easier to load data into your own BI tools and manipulate as required. It should also stop the need to manually download lots of CSV files and then copy and paste into Excel.

Taking into account working hours when calculating SLA – Finally, another feature a lot of people have asked for, namely for the SLA calculation to take into account working hours, which is particularly important for email. Now if the email arrives overnight, and you don't want to start the SLA timer until the contact centre opens, you can configure your business hours per group, and choose the hours to apply when configuring the SLA targets.

Remember we do listen, honest - The Forum is your opportunity to talk to the Netcall Development and Product teams directly and share future releases, so if you have any comments or questions on what we have listed, or ideas for new features and enhancements, just reply to this post, or start your own thread!