Hello everyone! We have some more exciting features coming in the next version of Converse. I'll give you the brief highlights here - but watch this space over the coming weeks for more detail.
Shifts & Rotas - Free yourself from spreadsheets by using our easy to use schedule planner to define when your agents will be working, their rotas, shift patterns and absences. Know how many people are due to be working over the next few hours across every skill so you can ensure you have enough staff.



Adherence - are your agents actually adhering to the shifts they've been given? Find out using our real time dashboard widgets and historic reporting. Shifts, Rotas and Adherence require a separate licence.
Skill Templates - group your skills and medias together into templates so you can quickly apply to agents in a single operation. Reset agents to their default skill template on login.



Dashboards - give your dashboard tiles and widgets a lift by applying a splash of colour. Use thresholds to highlight those metrics that are out of tolerance - eg long wait times, low adherence.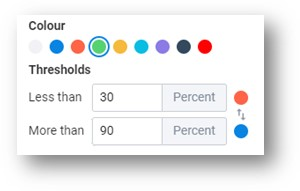 Single Sign On using ADFS, Azure AD or Google Auth - allows your end-users to login to Converse using their existing work account credentials, rather than managing a separate Converse user account - even on Liberty Cloud. In addition to Integrated Windows Authentication (IWA), AD Forms Authentication, Converse 5.2 will also support ADFS, Azure AD and Google Auth.
Office 365 Email Authentication - as we've previously communicated, Office 365 will start to block access to IMAP clients that use Basic Authentication from October 2020. Converse 5.2 will introduce support for OAuth security so that we can continue to handle emails over Office 365.
When? Converse 5.2 will be available from June 2020. We will keep you posted on progress!