Liberty Converse is our next-generation virtualised omnichannel contact centre solution. It is the result of our continued evolution of the Liberty ContactCentre. Liberty Converse enhances your Customers' experience and boosts your Agent performance, and will be available to all by the end of 2019.
Completely new queueing engine to control how all interactions are queued and routed
Converse has a brand new queueing engine that allows you to configure the priority of any media against any other to give full control of when, and how, content is delivered. This includes support for concurrency restrictions per media into Agents.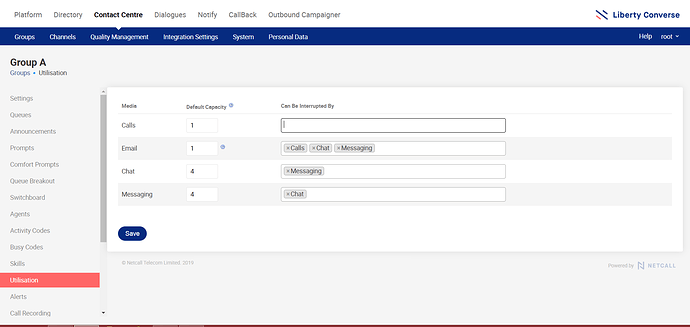 Support for even more media channels via our new Liberty Connect subscription service.
Liberty Connect is Netcall's new cloud-based Conversational Messaging engine that allows you to engage with your customers over the channels that are most convenient to them. This includes Facebook Messenger, Twitter Direct Messaging, SMS and webchat, with more to follow over the coming months including WhatsApp. All content is presented to agents via a single unified interface, which means that agents don't have to worry about the media type, they just provide the service to the customer. This of course also means it's easy to manage, monitor and report on.
Built to support and work seamlessly with Liberty Create
Liberty Converse has been designed to work with and use the power of Liberty Create, our low-code solution. So, if you need to design and embed a workflow or process directly into Converse you can now do that via Create.
Speed things up with the Netcall Community
New support for the upload, and download of Dashboards, Softboards, IVRs, Prompts and Agent Evaluation Scorecards into your solution. This opens up a wealth of content from the AppShare to download, and of course share back with the Netcall Liberty community.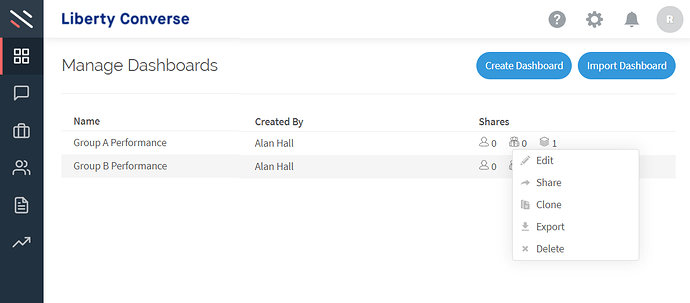 All new simplified licensing model
We have completely redesigned the Licensing model in Converse, removing any overhead of allocating licenses. Instead, all users can be Agents, and all Agents can handle all Media. The only restriction is the number of concurrent Agents in operation at any one time. In addition the new licencing includes QueueBuster, Call recording, an unlocked dialog builder (so you can create your own complex IVRs), and Softboards at no extra cost.