A number of updates for Bot Studio in Liberty Connect were made live to all users yesterday. Below is a summary of the changes. If you have any feedback or other suggestions we'd love to hear them.
Improved intent management
The new Intents tab provides a single place to manage the intents and example utterances that your bot will recognise.
Intents can be used as triggers for your Flows or FAQs. You can still edit them from those pages, but we think the Intents tab will make it much easier to manage. You can now rename and delete intents from the Intents page too.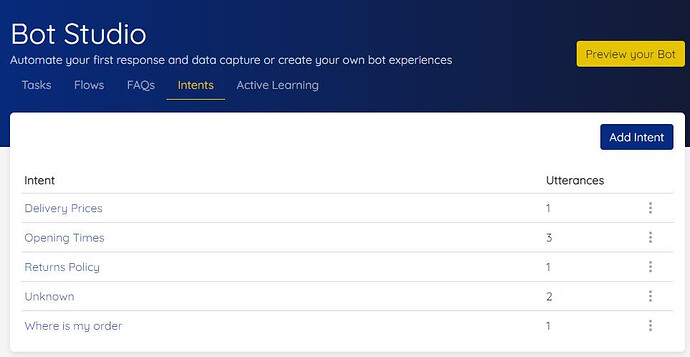 Add follow-up questions to FAQs
You can now transition to a flow at the end of your FAQ using the new "Go To" state. This gives you the option to ask follow-up questions after providing an answer to an FAQ. For example, you might choose to ask for feedback on whether the answer solved your customer's query, or offer them additional self-service options related to question they asked.

Use custom times in your decision
The "Decision" state has been updated to allow you to make decisions based on whether the current time is within a custom schedule. Previously this was limited to whether it was in or out of your business hours, but now with the option to choose a custom schedule you have complete flexibility in your decision.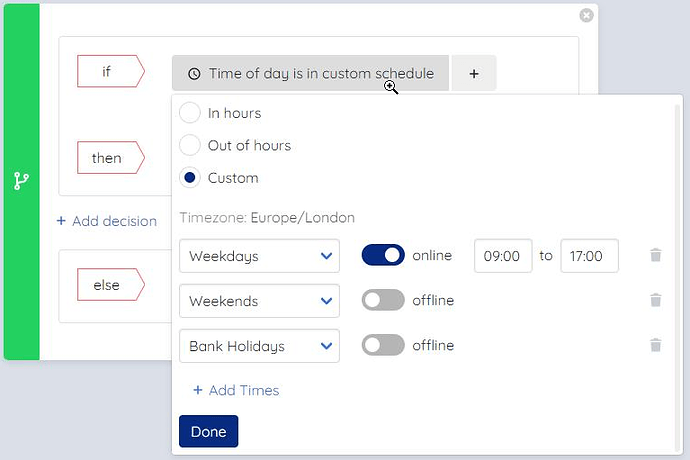 As an added bonus, you can also now reorder the decision blocks within a decision state to ensure that they are evaluated in the correct order.