Liberty Converse Contact Centre is great. You can queue calls, report on how many have queued, abandoned, redirected, Look at wait times, and so much more. But is it always the best solution when you only want to queue calls to a single or small number of extensions? - Probably not.
That is where Contact Centre's little brother comes in, otherwise known as CallQueue.
What is Call Queue?
CallQueue enables you to provide a queuing experience to a single destination number (be it a single desk/mobile number or even a group of phones configured as a hunt/distribution number on your PBX - phone system for the layperson like myself).
With that, you can:
Record Calls.

Play Music On Hold.

Play Comfort Prompts.

Play the callers position in the Queue.

Offer Queue Breakout options (such as press 1 to leave a message)

Set limits on the number of people waiting or the wait time.
Plus the ability to report on the following:
Number Queued

Number Answered (and %)

Number Abandoned (and %)

Number Redirected (and %)

Average Time To Answer

Longest Time To Answer

Average Abandonment

Longest Abandonment
As you can see, it's a pretty feature-rich product (and already part of your Liberty Converse system).
When should I use CallQueue over Contact Centre?
Great question. Ask yourself these questions:
Do you want to report on the handling time (the time the person was speaking on the phone for?)
Do you need to ensure it intelligently goes to staff (ring in an orderly fashion, go to the most appropriate person), and not just ring a hunt group and call everyone simultaneously?
Do you want more information in your stats than those listed above?
If the answer is yes to any of the above, you need to use Contact Centre; it's the best solution that gives you scope and scalability. For everything else, you could find CallQueue is perfect for you.
Use Case Scenario
I have a security desk, and I need calls to queue to the extension (it's a dect phone), and the security officer won't be logging in and out of a Contact Centre group and using all the excellent features; it's just not suitable for their role. To provide Queuing to this number, I will use a CallQueue.
Setting up the CallQueue
Go to the **Platform** area of your Liberty Converse System and under **Other** click **CallQueue**. Click the **Add** button and enter the name of your CallQueue and the Destination number (the number you want to Queue to). Then click **Save**.
Check out this quick video shows the above process
Easy isn't it? With its base configuration, calls will now queue to this destination number, play a normal ring tone and announce the callers' position in the Queue every 20 seconds, perfect for my needs. I can now use a Dialogue to transfer to this CallQueue or set up a number within Call Routing to go directly to it.
Additonal Configuration
These settings are similar to a Contact Centre Queue but without the Skill/Priority/QueueBuster Integration. You can check all the settings in detail within the Docs Portal (search CallQueue).
But, you may want to think about some of these settings. Firstly, to edit your CallQueue settings, click on its name.


Queue Name and Destination number. You can edit these if the name of the Queue no longer represents its function and the destination number if you change where you want calls to go to,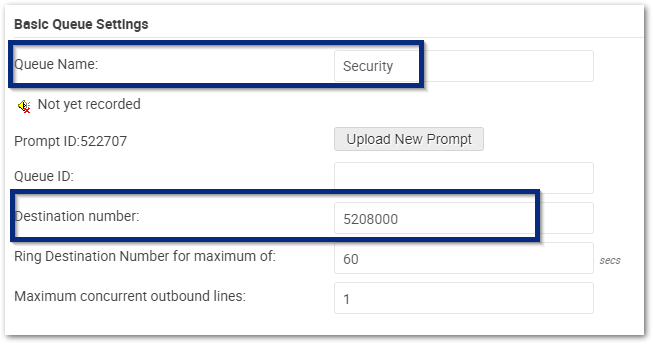 Do you want to record calls? Then tick this box; you can change the length the calls will record for. By default, this is set to 3600 milliseconds (1 hour). Please note that to record calls, you must not enable the Route Optimisation feature at the bottom of the settings page, and call recordings can only be obtained via the Recent Call report.


You can change the Music on hold from Ringing to any MOH file already on your system (such as our own Beach Life). You can disable the playing of queue position by unticking this option. You can also limit the position number played (99th in the Queue may be a little much if you get there, perhaps a more enabling 5 or 10, remember those above that number will not be told where they are in the Queue).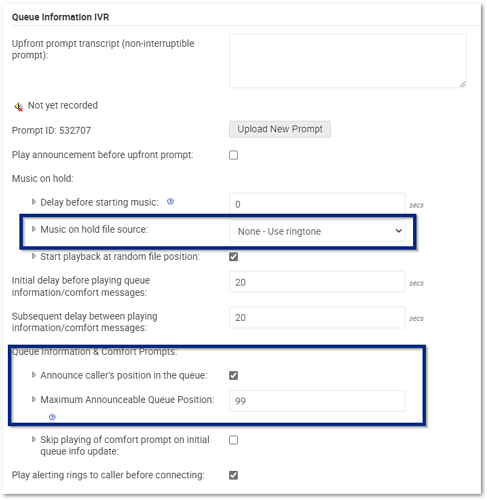 Allow Route Optimisation. If you do not want to record calls, tick this box. Once the caller is connected, the calls will drop out of the Liberty Converse system saving you channel usage. If you want to record calls, you must leave this disabled so that Liberty Converse keeps the lines open to record. Recording calls keeps 2 channels active until the call ends.


The End
Thanks for reading, and I hope you found this a helpful article. If you have any questions on CallQueue, then let us know.
Thanks
Jonathan Redsell