We have recently been through a restructuring process of the Local Government and Citizen Hub Framework categories in the Forum. The Local Government category will now include all items specifically related to Local Government and Housing including key announcements from MHCLG and other key strategic digital sources, as well as providing an area for you to raise questions about the use of the Liberty suite within Local Government and Housing.
The new CH Framework Category is replacing the previous CH Core and CH Modules areas of the Forum. The consolidation of these into a single category will make it easier for you to find announcements from us about ongoing developments in the framework, announcements about new releases or modules and changes in the Framework itself. Again, we would like you to contribute to this category by raising any CH specific questions that you might have for your peers in other Councils or Housing Associations.
We hope that both of these Categories will become a key resource for you as you continue to develop with the Liberty Suite and help foster a more collaborative approach to the use of the platform.
In order to make sure that you are notified when a new Topic is added to either of the above Categories please go to the relevant category and click on the 'Bell' icon on the top right hand corner and select Watching.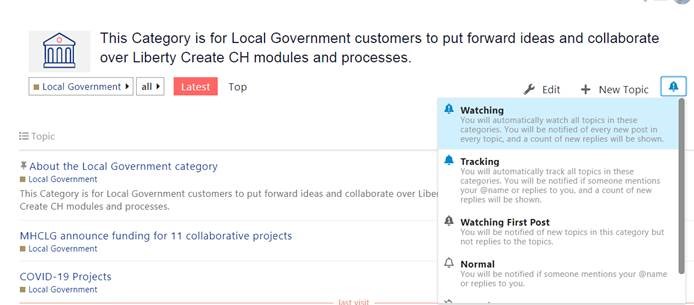 If you would like us to do this for you then please email community@netcall.com and we will make sure that your settings are updated.