Hi
I want to print citizen history on the hub.
https://hertsmere-hub-build.onmats.com/i/agent/p/people/person/125DCFDF1/599DCFDF1?context_record_id=17643
I have created a print template, Created 'Create print task' and 'Print preview' buttons. Created the Pop up page that should be visible when 'Print preview' button is clicked.
But there are couple of issues:
When I click 'Print preview' on a record, only 1 record should be visible in the pop-up page. But all the records are visible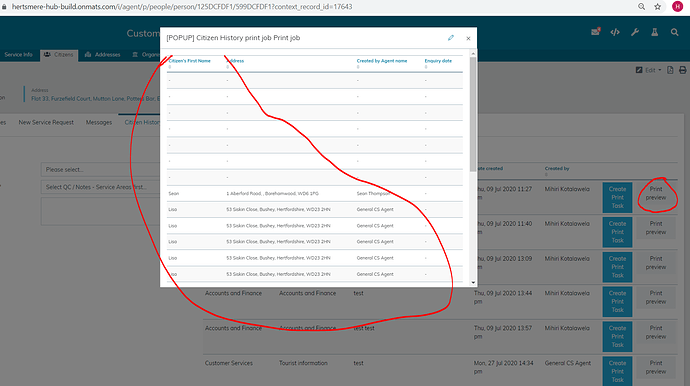 Can't convert the list in the pop-up page to a PDF or printable document
I have created a print task similar to this on the services interface without any issues, because the document object is related to the Case object.
https://hertsmere-services-build.onmats.com/i/bw/p/wsc/ws-cases/sc/street-cleansing-processing
But this time as I need to print data related to Personal data object, this object is not related to document object, so I'm not sure how to convert the records in to a printable document.
Could someone help me with this please?
Thank you,
Mihiri